Big Money is a game show related to anything and everything as seen on television – soaps, advertisements, news, films etc, which gives viewers an opportunity to participate and win a cash prize of Rs 10 million (Rs 1 crore). The quiz questions are going to be asked from anything that dictate Indian Television, it can be sports, reality shows, Saas bahu serials, brand commercials, etc. The show consists of 7 stages, with one level for each family member (total of four questions).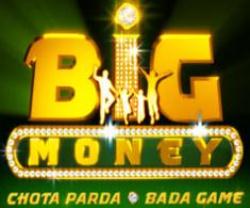 Quiz will start with easy questions and gradually move to difficult ones. Members of a family which participate , rearrange themselves according to their knowledge on each question / topic. Any wrong answer can break the link and thus the game will end. The participant will try to win with each other on a weekly basis for a mammoth money prize of Rs.1, 00,00,0000, the highest prize on Indian television.
Eligibility Criteria To be eligible to participate in the Program:
1.Individuals must form a team, which should consist of four family members related to each other through blood or otherwise ("Participating Family").
2.It is mandatory for at least one adult to be part of the Participating Family i.e a family should have atleast one adult member participating in the Program.
3.The child (children) participating in the Program should be of 9 years and above of age at the date of the submission of the entry.
The registration process for inviting entries have commenced from 8th June, 2010 and will end on 25th July, 2010 ("Registration Period").